Main Page
Jump to navigation
Jump to search
---
Hello, Welcome to Eurobattle.net Wiki - European Warcraft III PvPGN Server.
If you can't find your answer, Visit Technical Support - http://eurobattle.net/forums/18-Technical-Support or contact us on Discord - https://discordapp.com/invite/byW7rHN
Installation requirements
- Windows XP SP3 or greater
- Warcraft III 1.28.5 or 1.26a or both (install in path that has only ASCII characters, not unicode! Especially for Turks and Br, you will have problems. No accents!)
- Eurobattle.net Client : Installer v13
- Visual C++ Redistributable 2015 x86 (Required by our Client)
- Visual C++ Redistributable 2013 x86 (Required by Warcraft III 1.27a+)
Installing Warcraft III 1.28.5
Install Warcraft III 1.28.5 to play PG/CG games.
Download a complete Warcraft III version 1.28.5 from one of the mirrors
Mirror 4 (torrent magnet link)
Warning: don't install any third party software, all files can be downloaded directly through your browser. If the file is not found or not accessible, try another mirror
About
This archive contains the game after a regular installation with the official Blizzard setup. Some files were added/altered to support Eurobattle.net Client.


Extract the zip to the directory you want your game to be in. Note that it should not contain any non-english symbols!
---
---

Related Issues:
- File migration failed/repeats itself/files in use etc: File migration errors

Installing Warcraft III 1.26 for DotA Gateway
Install Warcraft III 1.28.5 to play DotA 6.88+ on lagabuse.com
Download the game from any of the mirrors below:
Mirror 5 (torrent magnet link)

Extract it to any folder and select the resulting path in Eurobattle.net Client
Installing Eurobattle.net Client
Eurobattle.net provides its services to all users, no matter if they have a licensed copy of the game or not. If you don't have the license keys, Eurobattle.net Client will provide you with temporary ones which will let you connect to our servers.
1) Make sure that you have Warcraft III 1.28.5 or 1.26a installed on your computer.
2) Download and install Visual C++ Redistributable 2013 and Visual C++ Redistributable 2015 x86 here or from the official Microsoft site unless you have them already. These frameworks are required in order to be able to use our Client.
3) Download the newest Eurobattle.net installer v10
4) Unzip the installer and launch it.
5) Progress through the installation, make sure to select the desired Warcraft III path and the path you want the Client to be installed to: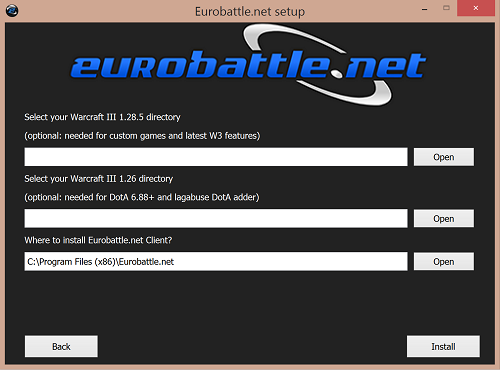 Note that the path MUST contain only English characters.
6) After the installation has been successfully completed, the Client's shortcut will appear on your desktop:

7) Launch the Client and wait patiently until it patches your game (if necessary). You might be asked to confirm the installation of patches (their size varies from ~50 MB to ~950 MB).

8) Lastly, add Eurobattle.net/gproxy.exe and Warcraft III/w3l.exe to the whitelist in your antivirus (especially Avast is notorious for removing the files silently).

In case you aren't able to connect to our servers or are experiencing other problems, check our Troubleshooting Section before posting in the Technical Support Board on forum.
---
---

Related Issues:
- VCRUNTIME140.DLL is missing
- 0xc000007b Error
- Api-ms-win-crt-convert-l1-1-0.dll is missing
- Gproxy.exe is missing & w3l.exe is missing
- Unable to validate game version
- Unable to connect to Battle.net

Server account
Note that you can't login on server using your forum account.
To create a server account, you have to use this form (More about forum and server accounts)
GHost hashes
1.28.5
Compile the latest version of bncsutil and vesioncheck should work without custom hashes. If you can't do that, here are the hashes:
 bnet_custom_war3version = 28
 bnet_custom_exeversion = 0 5 28 1
 bnet_custom_exeversionhash = 201 63 116 96  
 bnet_custom_passwordhashtype = pvpgn


1.26a
 bnet_custom_war3version = 26
 bnet_custom_exeversion = 1 0 26 1
 bnet_custom_exeversionhash = 39 240 218 47
 bnet_custom_passwordhashtype = pvpgn