Managing accounts
Jump to navigation
Jump to search
Forum account
Create forum account
Click on the "Register" button in the top right corner

The following form will open
Insert the following information:
Username of your account
Password
Your email
Text of the Captcha
Answer to the security question (you can google it if you don't know the answer or reload the page to get a new one)
Date of birth
Accept the Forum Rules and click on "Complete Registration"
You should now receive an email with an url you need to go to in order to activate your account. Accounts which were not activated can't post in any thread.
Moderation
All posts and topics created by new accounts should pass moderation first. That means that they will be checked by a moderator before they are visible for everyone. This measure helps keeping the forum clean from spammers.
Server account
Create server account
Server accounts can only be created using a special form on our forum. Follow these simple steps in order to create an account:
1) Go to the account creation page
2) Type in your email and complete the Captcha.
Note: Disposable emails are NOT allowed. If you have a legitimate email and it still doesn't let you register, please contact us on forum and we will add it to the whitelist.
3) Check your mailbox, you should have received a confirmation email. click on the confirmation link and it will take you to the account creation form.

4) Type in the desired nickname and password.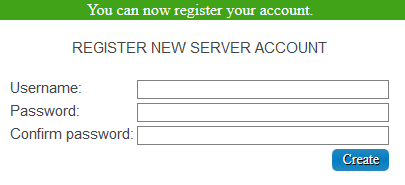 You should now be able to login on server using the in-game form.
Change password
- Go to the Change Password Page.
- Fill the Name, Current Password, New password, Re-type Password fields and click the "Change Password" button.
- Your Password should now be changed.
Recover password
- Go to the Password Recovery Page.
- Type in the email which is bound to your server account and complete the Captcha.
- Check your inbox, you should have received the following letter:
- Clicking the link will bring you to the following form:

Type in your new password and confirm it.