Unable to connect to Battle.net
Jump to navigation
Jump to search
The following message can appear after clicking the "battle.net" button: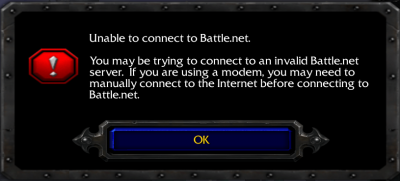 There are 2 reasons for this message:
1) You are trying to connect to a wrong gateway
2) A firewall is blocking GProxy
3) A rare bug, the Client can't find gproxy.exe when launching the game with the GProxy gateway
Solutions
1.1) Make sure that you are connecting to the right gateway: "Eurobattle.net" for normal gateway and "Eurobattle.net GProxy" for GProxy gateway. In case these gateways are not present, find eurobatte.reg in the Client's directory and add it to your registry (double click it).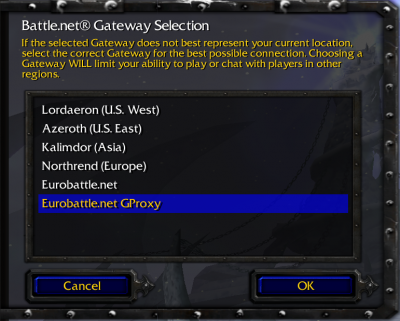 1.2) Make sure that you are starting Warcraft III with our Client ("xpam.exe" or "Eurobattle.net Client" desktop shortcut) as you won't be able to connect to our servers if you aren't.

2) Add gproxy.exe to your firewall's white list

3) Reinstall the Client