Eurobattle.net Client
Jump to navigation
Jump to search
Eurobattle.net Client is a program which lets you connect to our servers. It offers 2 different gateways: normal and gproxy. GProxy is a tool which doesn't let you drop from your game, suspending it if you disconnect and allowing you to reconnect within a set timeout. It also provides protection against cheaters and maphackers. GProxy is required to be able to use LagAbuse.com bots.
Features:
Disconnect protection
Anti-hack system
Automatic patching of your Warcraft III to the recent version
Custom icons
Custom sounds
Switching between DirectX and OpenGL modes
Requirements
Our server currently runs the 1.28.5 version of Warcraft III.
We provide our service for everyone, so you do not need to have a licensed copy of Warcraft III in order to play on Eurobattle.net.
Please make sure to have the following in order to be able to play on our server:
Warcraft III of any version except 1.00 (The very first one). If you don't have it you can install it using this tool, check this page for detailed instructions.
The actual installation file: Installer v9
Windows XP SP3 or greater
Note that version switcher isn't needed anymore, if a patch is required it will be downloaded and applied by our Client automatically.
How to install?
Eurobattle.net provides its services to all users, no matter if they have a licensed copy of the game or not. If you don't have the license keys, Eurobattle.net Client will provide you with temporary ones which will let you connect to our servers.
1) Make sure that you have Warcraft III 1.28.5 or 1.26a installed on your computer.
2) Download and install Visual C++ Redistributable 2013 and Visual C++ Redistributable 2015 x86 here or from the official Microsoft site unless you have them already. These frameworks are required in order to be able to use our Client.
3) Download the newest Eurobattle.net installer v10
4) Unzip the installer and launch it.
5) Progress through the installation, make sure to select the desired Warcraft III path and the path you want the Client to be installed to: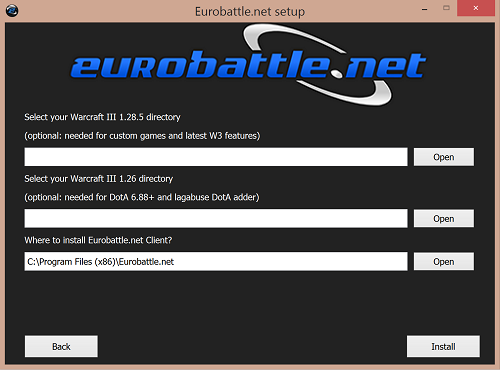 Note that the path MUST contain only English characters.
6) After the installation has been successfully completed, the Client's shortcut will appear on your desktop:

7) Launch the Client and wait patiently until it patches your game (if necessary). You might be asked to confirm the installation of patches (their size varies from ~50 MB to ~950 MB).

8) Lastly, add Eurobattle.net/gproxy.exe and Warcraft III/w3l.exe to the whitelist in your antivirus (especially Avast is notorious for removing the files silently).

In case you aren't able to connect to our servers or are experiencing other problems, check our Troubleshooting Section before posting in the Technical Support Board on forum.
Changelog
The latest change can be found in changelog.txt and the whole changelog in changelog_full.txt in the Client directory.
You can also view it on the Changelog Page.