Tutorial:BNUpdate
Jump to navigation
Jump to search
This article is out of date, the information it contains can be incorrect. Please refer to the
Troubleshooting
section for a newer version.
You are patching and it shows this error?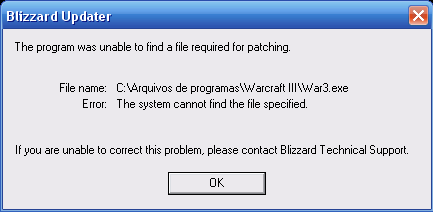 The solution is simple. All you need to do is this:
Open My Computer and open the C:\ directory
Copy your whole Warcraft III folder
Now, in C:\ directory create a folder named Program Files (without ".", folder name may be different, depends which one you get in error)
Paste your WHOLE WARCRAFT III FOLDER in it(should take few minutes)
Now you have C://Program Files/Warcraft III
Copy blizzard 1.26a patch and 1.26a installer and paste it to "C:\Program Files\Warcraft III"
Run the "War3TFT_126a_English.exe" or if it's not working run "BNUpdate.exe"
Now when you finish patching, you need to run 1.24e server installer
How to install it?
Well, when you download it from the link posted, just run it, and when you choose the directory where will it be installed, choose C:\Program Files\Warcraft III After installing it, you should be able to play on server.
If you bother having that folder "Program Files", just CUT the Warcraft III folder from it, and copy it somewhere else wherever u want, and delete the 'Program Files" folder.