Lagabuse.com:Stats Page
Jump to navigation
Jump to search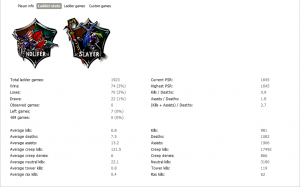 Each game played on lagabuse bot is recorded and saved in our database. You can view your stats page by going "Stats" -> Players -> Search and typing in your ingame nick. Player info displays the very basic information about the player such as his nickname, number of played games and the list of current bans/warns. Ladder stats shows the following stats among the other:
Games played in total
Number of wins
Number of loses
Average kills
Average deaths
Average assists
Average creep kills
Average creep denies
Average neutral creeps kills
Ladder games lists all ladder games which were played on that server account and Custom games all custom games respectively.

You can also earn various achievements based on your stats such as:
---