Lagabuse.com:Forum Profile
Jump to navigation
Jump to search
Profile Info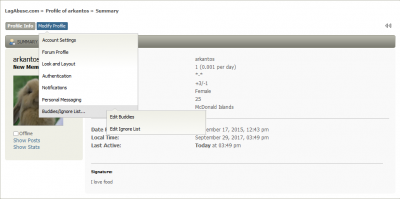 Summary:
General information about your forum account such as your username, number of posts, personal text, karma, age etc.
Show Stats:
Shows your activity on forum.
Show Posts:
Lists all your posts.
Show Awards:
Shows your awards. You can earn these by beeing active on forum and by participating in various events on server.
Awards List:
A list of all awards which can be earned.
Mentions:
Posts in which you were mentioned. You can mention other members by typing @*username* .
Modify Profile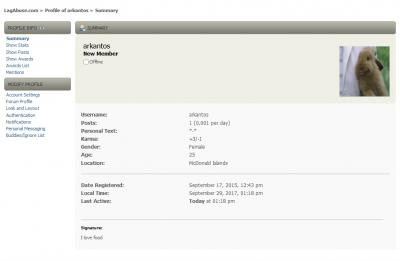 Account Settings:
Lets you change your password, email and secret question. Username can only be changed by members of special membergroups, such as Tournament Supporters, V.I.P., Patreon Supporters etc
Forum Profile:
Lets you change the information displayed on your Profile page.
Look and Layout:
General forum settings
Authentication:
Lets you choose the way of authentication - OpenID or Password.
Notifications:
Turns on email notifications.
Personal Messaging:
Various settings regarding private messages.
Buddies/Ignore List:
Lets you add other members as your buddies or ignore their messages.
---