Tutorial:Installing Eurobattle.net
From Eurobattle.net WiKi
Eurobattle.net provides its services to all users, no matter if they have a licensed copy of the game or not. If you don't have the license keys, Eurobattle.net Client will provide you with temporary ones which will let you connect to our servers.
1) Make sure that you have Warcraft III of any version installed on your computer. You can get a clean install using the offical game installer created by Blizzard (Warcraft III Setup (Install and Update)), the game aquired this way will not have any license keys and you will only be able to connect to eurobattle.net servers with it.
2) Download and install Visual C++ Redistributable 2013 and Visual C++ Redistributable 2015 x86 here or from the official Microsoft site unless you have them already. These frameworks are required in order to be able to use our Client.
3) Download the newest Eurobattle.net installer here
4) Unzip the installer and launch it.
5) Progress through the installation, make sure to select the desired Warcraft III path and the path you want the Client to be installed to:
In this exaple D:\Games\Warcraft III\Warcraft III - 1.28.5 is the path to the Warcraft III copy which will be used by the Client and C:\Program Files (x86)\Eurobattle.net the Client's location on disc.
6) After the installation has been successfully completed, the Client's shortcut will appear on your desktop:

7) Launch the Client and wait patiently until it patches your game (if necessary). You might be asked to confirm the installation of patches (their size varies from ~50 MB to ~950 MB).
The Client should update your game automatically if an update is required but it is also possible to force a patch manually in case something goes wrong or your current patch is corrupted. It can be done by clicking on the "Perform full W3 update" button on the "Update" tab.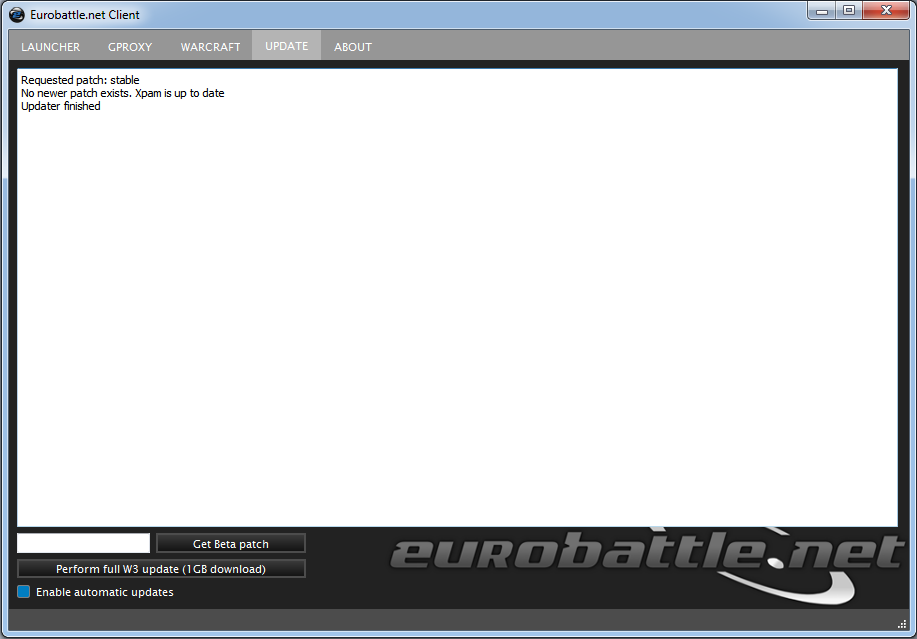 Note that any patch downloaded and installed by the Client will change your game's language to English. To keep your game in a different language, it is recommened to update it by connecting to the official Blizzard servers or downloading the patch from other sources.