Tutorial:wvs
From Eurobattle.net WiKi
This article is out of date, the information it contains can be incorrect. Please refer to the
Tutorials
section for a newer version.
WVS contains Warcraft 3 patch version files which allows you to switch between multiple Warcraft 3 versions easily without any problems. This version of WVS will allow you to upgrade/downgrade from Warcraft 1.25b to Warcraft 1.26. You can play & watch older version games with it.
http://hotfile.com/dl/111710327/ca4eb52/WVS-126-by-DotA_Utilities.rar.html
Guide: •Download the Warcraft Version Switcher 1.26 from the link above. (Download TFT Version 1.26.zip if you already have other patch files & version switcher program) • Extract the files to any folder using WinRaR. • Run Wvs.exe and click the Options button. • Set your Warcraft 3 path (where your Wc3 is is installed) • Click (1st button) Switch Version and double click your desired Warcraft 3 version. • Your version will be switched!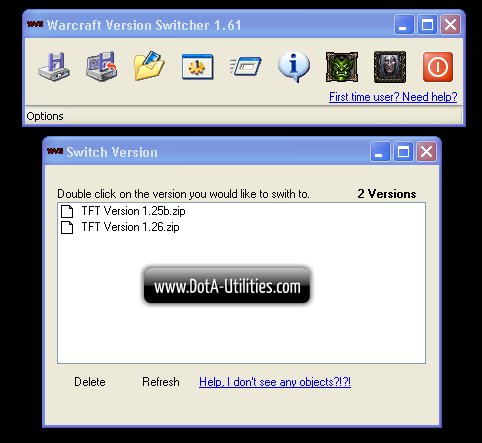 Note:
•If you already have wvs program and other patch files, download the TFT Version 1.26.zip file below and copy/paste it in WVS of version switcher directory.
http://hotfile.com/dl/111713108/c310c88/TFT_Version_1.26.zip.html
•You can patch it even from 1.24 version but first you must switch it to 1.25 version and then from 1.25 to 1.26a it wont work if you patch it from 1.24 to 1.26a
• This version will only work if you have Warcraft 1.25b patch previously installed.
• Right click "Wvs.exe" and Run as administrator, if you are using Windows 7 or Vista.
• 1.26a = 1.26.0.6401
If you have any questions or need help, please do not hesitate to contact us[1].