How to play custom games
From Eurobattle.net WiKi
Custom games are all games which aren't played through the "Play Game" and "Quick Play Game" options. They also don't affect the melee ladder. There are thousands of different custom games - DotA, DotA LoD, Castle Fight, X-Hero Siege, Uther Party, Sunken City, Madballs, Invoker Wars, Pudge Wars, Green TD, Middle Earth Risk, Archer Wars and many, many other.
1) After logging in, click on the "Custom Game" button.

2) Select the game you want to join from the list or type its name in the text box.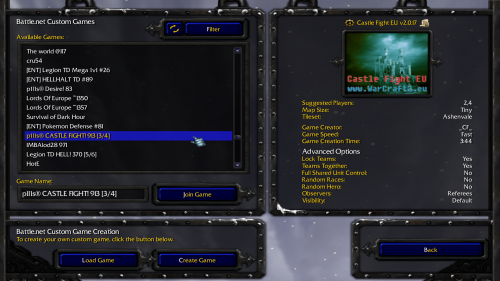 3) DotA games are also custom games and can be joined the same way